Manual for Buddies – developer's guide to all of us born digital
Here it is!
To all of us – to novices and experts, but also to regional developers and higher education institutes! Because we are, live and work in born digital world. The guide supports, encourages, and advises what, how and with whom. Read it, talk about it with buddies and use it to boost your business idea!
In DigiReactor project we made digital product development pilots. As a result we deliver unique guides to bolster trust, social capital and collective action in digital producet development, and in life: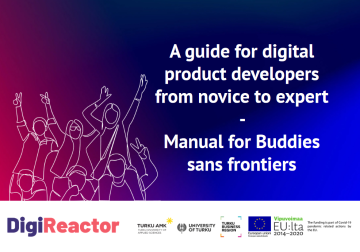 Download also DigiReactor Mobile Application (AppStore and Google Play)!
Lataa myös DigiReactor-applikaatio (AppStore ja Google Play)!
We warmly thank all participants in our events and pilots! You made this happen! Lets continue doing good and lets make it well!
The Dynamic Duo of DigiReactor from University of Turku says thanks!  See more News from Work Informatics!
Yours sincerely,
Antti Tuomisto and Satu Aaltonen
Work Informatics and Entrepreneurship
Turku School of Economics and University of Turku
The funding of DigiReactor is part of Covid-19 pandemic related actions by the EU.